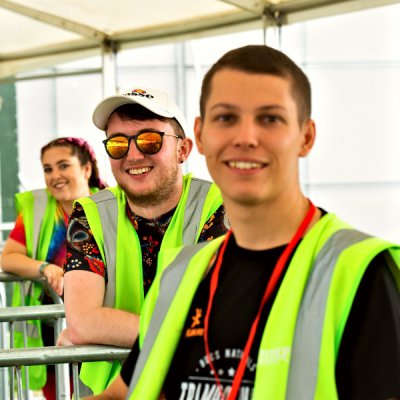 A big thank you to all our staff and volunteers who supported us in summer 2019.
Without you we cannot do what we do. So thank you for your hard and happy outlook over the summer months at over 30 events up and down the UK from Inverness to the Isle of Wight.
We will be back with more events in summer 2020 including the 2Oth birthday of Bloodstock, the 15th year of Kendal Calling and the 50th anniversary of Glastonbury….plus many more events to delight all ages and tastes…..including one or two new ones.
Applications will open Saturday 1st Feb 2020
Why volunteer with Festaff?
£10/£15 is your only cost. No full ticket lay out for all events (excl. Glastonbury & Boomtown).
Receive a weekend pass to enjoy the event.
Abundant time to enjoy the event with friends.
Volunteer for a small number of hours, usually 2 x 8 hour shifts, with friends in light customer facing roles.
See the biggest and best bands/DJs in the world, as well as comedians, cooks etc!
Get fed whilst on duty- most events offer a meal per shift
Reside in a safe staff campsite with access to facilities such as FREE showers and FREE mobile charging.
Add volunteering to your CV and/or complete your work experience on site. Great for those wishing to pursue a career in events.
Be part of the team and make friends for life.
Get your deposit back by electronic transfer post event.
Deposits and admin fees.
Most events are a £20 deposit with a £15 admin fee, so £35 to put down in total.
BST Hyde Park and All Points East are a non-refundable £10 admin fee.
Glastonbury is £240. £15 of which is admin fee.
Boomtown is £264. £15 of which is admin fee.
We aim to respond to all applications within around 2 weeks.
Payments.
You can now use most credit cards as well as PayPal to pay.
Community/Forum Page
We have added this page to our website so that volunteers can discuss travel, on site tips, meet up on site and make each other's lives on site as comfortable as possible.
Applying.
If you have applied with us before, you can login to your existing profile and select the festivals you wish to apply for. If not create a profile now and give it some detail and you will be ready to submit when applications open next year on 1st Feb.
Watching festivals on TV on your own just ain't the same!