Education for the Children
Education for the Children Foundation exists to help some of the poorest children in Central America off the streets and into the classroom, providing a positive alternative to a life of begging. Guatemalans have suffered greatly in the past. During the eighties and early nineties, Guatemala had a civil war and at least 200,000 people were brutally murdered.
Thanks to everyone who donated in 2023.
We raised just £350 through your generosity.
Festaff doubled this figure to £700 before making our yearly donation to EFTC.
Escuela Proyecto La Esperanza is a primary school dedicated to educating some of the poorest children in San Felipe, Jocotenango and the surrounding villages close to Antigua in Guatemala.
EFTC provides these children with a safe and caring learning environment, a brighter start in life and a positive alternative to a lifetime of begging on the streets. There are currently some 530 children in education with 100 of those on a scholarship programme at local colleges and universities.
EFTC does not only provide these children with education but also with nutritious meals (for many the only food they will eat that day) and also medical, psychological, and housing support.
Festaff is proud to be involved with EFTC and looks to expand the relationship over the coming years. If you would like to know more about EFTC or become involved with any of the ongoing projects please get in touch.
Guatemala, along with neighbours Mexico and El Salvador, has a long history of violence and poverty. It has the highest illiteracy rate in the whole of Central America, a shocking 56% of the people live below the poverty line and half the children under 5 suffer from chronic malnutrition. Those living below the poverty line face strong prejudice and have limited opportunities due to their economic backgrounds.
Website: www.eftc.org.uk
Email: enquiries@eftc.org.uk
Tel: 0115 958 4876
Registered Charity: 1099280
Twins Keyly and Ilse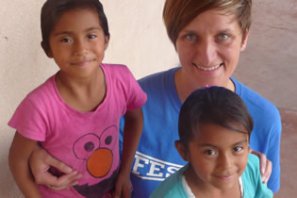 Twins Keyly and Ilse are sponsored by Festaff to help them avoid malnutrition and gain basic education so they can try and escape a life of poverty.
Sandy and the Uz Tio family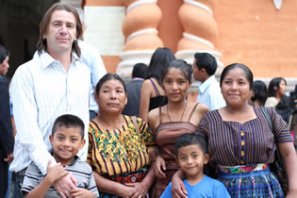 Sandy and the Uz Tio family at Heidy's (centre) graduation from Primary School Oct 2012. Also featured is Israel who is supported by Festaff and their little brother Moises.
Jose Antonio Tiu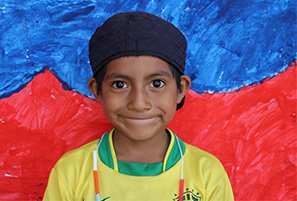 As of March 2017, young Jose joins his new classmates Heidi, Isle, Keyly & Israel as the 5th child sponsored by Festaff at the School Of Hope in Antigua, Guatemala.
Providing Education and a good meal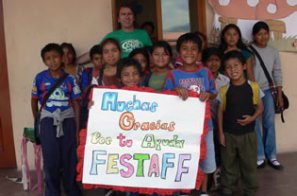 Pupils thank Festaff for its support.