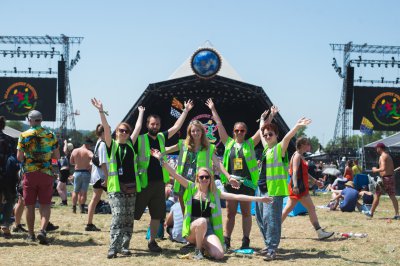 GLASTONBURY FESTIVAL 2022 APPLICATIONS.
We will not, initially, be accepting general applications for Glastonbury Festival 2022 when applications for other events open on 1st February.
Thank you to all those who rolled over their applications from 2020/21 - your applications for Glastonbury 2022 will appear in your profiles in the near future - please have patience.
Invitations to apply for Glastonbury 2022 will be sent out to those who qualify before end of February 2022 - those who worked two camping events with Festaff in summer 2021. Invites are for named person only.
If you wish to be part of the team at Glastonbury 2023 please work two camping events with us this summer and we will invite you to apply!
If you are lucky enough to be part of the Glastonbury 2022 team and complete your sister event, and Glastonbury, you will receive an invite to be part of the team in 2023.
All successful Glastonbury applications must be supported with a sister event from our 2022 camping events roster.
There is further info on the Glastonbury application page – if you require anything further please email info@festaff.co.uk
Please keep an eye on social media and this website after 1st April for more updates on Glastonbury 2022 applications.