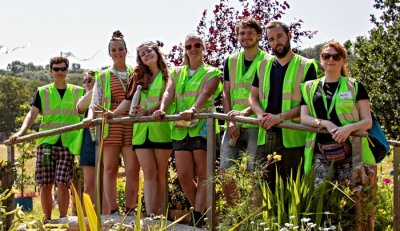 Enjoy summer 2020 music festivals with friends as part of our volunteer team without breaking the bank for tickets!
Applications for volunteer places will open on Saturday 1st February at 12 noon.
Full list of events:
· Neighbourhood Weekender
· Sundown
· All Points East: Tame Impala and Kraftwerk alreday announced - more to be announced soon
· Isle of Wight Festival
· Boomtown Fair
· Beat Herder
· Love Supreme
· Rewind (North, South & Scotland)
· Carfest (North & South)
· Bloodstock
· BST Hyde Park: Little Mix, Pearl Jam and Taylor Swift already announced more soon...
· Kendal Calling
· Belladrum Tartan Heart
· Creamfields
· Run Fest Run
Why volunteer with Festaff?
· £10/£15 is your only cost.
· No full ticket lay out for all events except Boomtown.
· Receive a weekend pass to enjoy the event.
· Abundant time to enjoy the event with friends.
· Volunteer a small number of hrs, usually 2x8hr shifts, with friends in light customer facing roles.
· See the biggest and best bands/DJs in the world, as well as comedians, celebs etc!
· Get fed whilst on duty (except Glastonbury).
· Reside in a safe/secure staff campsite with access to FREE showers and FREE mobile charging.
· Add volunteering to your CV.
· Great for those wishing to pursue a career in events.
· Ask us for a reference. Get to see backstage and how the festival works.
· Be part of the team and make friends for life.
Deposits and admin fees:
· Camping Events - £20 deposit with £15 admin fee = £35 total.
· Hyde Park BST and All Points East = £10 admin fee only.
· Glastonbury Festival - £225 deposit with a £15 admin fee = £240 total. (Not open until 1st March)
· Boomtown Fair - £270 deposit with £15 admin fee = £285 total.
No deposits will be paid back in cash onsite. All will be paid back electronically post event.
Applying: ivals you would like to be considered for. If you have forgotten your password you can re set it here. For new applicants, it is simple to create a profile and takes 2 minutes to complete. Please give as much info about yourself as possible. Create Profile here.
Community Forum:
If you have created a profile you can now link in with your fellow Festaff volunteers and share lifts to events, stories, pics, advice, arrange to meet friends on site, offer festival survival tips etc. Click here to visit CF.
Glastonbury 2020:
We will contact those who qualify for an invite/Priority Application List - those who worked two camping events in summer 2019 with Festaff. All places remaining will be open for public applications on 1st March. If you believe you should receive an invite and have not by an email by Friday 24th Jan please email us.
We look forward to meeting and working with you in what is going to be one hell of summer!
If you have any further questions, please email us via Contact Page.
The Festaff Team.